This week was a lot better than last week, but I'm still working to get back into my regimen of going to bed by 10 or 11, waking up at 5:30 A.M. and starting school by 8:30 A.M. Over the last two weeks, when we were traveling to 8 states, we did not get to bed some nights until 1 or 2 in the morning (unsafe weather conditions, delayed flights, unsatisfactory hotels, or just staying up too late). Sleep deprivation made it increasingly harder for me to wake up at 5:30 in the morning so I could plan lessons, exercise, prepare myself mentally and spiritually to teach my kids and to speak to large audiences. The fatigue eventually caught up to me, compelling me to take naps in the middle of the day, which, in turn, resulted in me staying up later than usual, further exacerbating things.
That's why I am so glad to be home this week and next. To start the week right, I stayed up late last Sunday night preparing the 32 lesson plans I needed to teach throughout the week. Getting that done made this week remarkably easier. I even got a burst of inspiration, and created check-lists so the children could manage and monitor their own progress for the day. I had to print them out nightly, which wasn't the best use of my time. To fix this, this weekend, I think I am going to create a checklist for their entire week and see how proactively they will work through their assignments.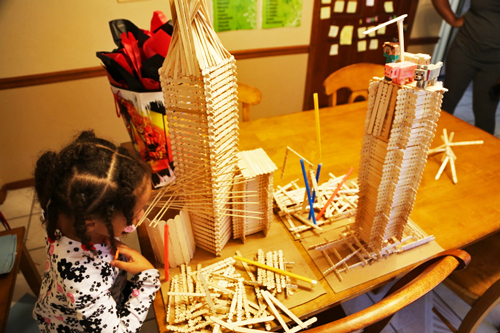 (The kids built wooden towers for Fine Arts)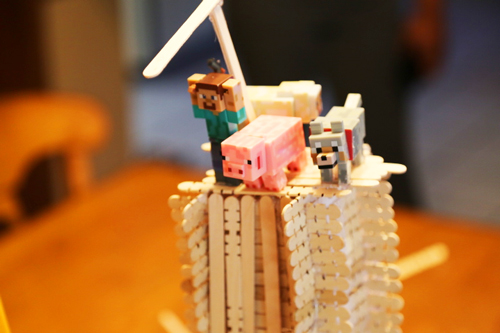 (Manuel put Minecraft characters on top of his tower)
One of the benefits of homeschooling is the flexibility it has given us. When the boys and I were at the barber shop, they worked on their math and history lessons; when Berkeley was at the doctor's office, she worked on her handwriting; and when we needed to visit the clinic for Manuel's checkup (had a wart removed), we reviewed more history and grammar lessons. When the kids were at the barber shop, the fellas asked our kids what they liked and didn't like about school. The boys both said, "The good thing about public school is that it is easier; the bad thing about it is that it's so long. The good thing about homeschool is that it is shorter than public school; but the bad thing about it is that the work is a lot harder." If that is their biggest complaint, then I'll take it.
With the aforementioned flexibility, we decided to use Thursday (instead of our usual Wednesday) as our field day because it was Manuel's 8th birthday. It had to be one of the coolest 8 year old birthday parties I've ever seen. My wife really pulled out all the stops on this one. In the morning he had his presents waiting for him in the kitchen. Later in the morning, they picked out their Halloween costumes. In the afternoon, after all his friends got off school, we had a party in the back yard, with cake, ice cream, and a mini-petting-zoo! We had a pony, several rabbits (the baby rabbits were adorable), a ferret, two little pigs, and several poodles. The kids played with the animals, rode the zip-line, played football, wrestled, and played video games. A nerf-gun-war broke out for a while too. After the party, Alice gave each kid a goodie bag to take with them. Even the grown ups enjoyed all the festivities.
Before we decided to homeschool our children, one of our biggest concerns about homeschooling pertained to the socialization of our children. We believed all the traveling we would be doing, and all the people we would be meeting, and all the playgrounds would visit, would help them develop their social skills. We also believed that if homeschooling were going to be effective, we would have to be intentional about maintaining and cultivating relationships with the friends the kids had had from pre-school, public school, sports, the neighborhood, and from church. Manuel's 8th birthday party provided a great opportunity for them to do that.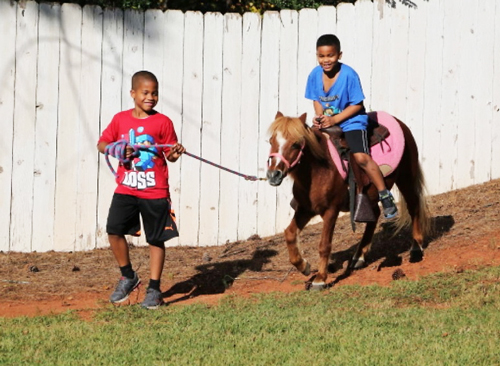 (Manuel pulling Chris on a pony)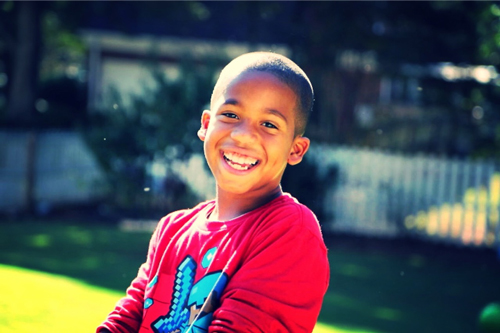 (Manuel riding the pony)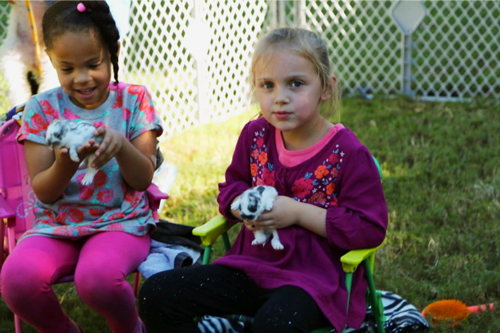 (Berkeley and her friend, Lily, holding baby bunnies)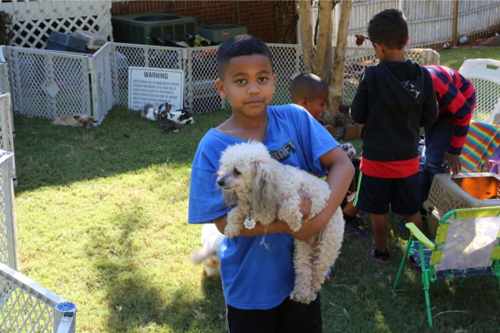 (Chris holding a dog)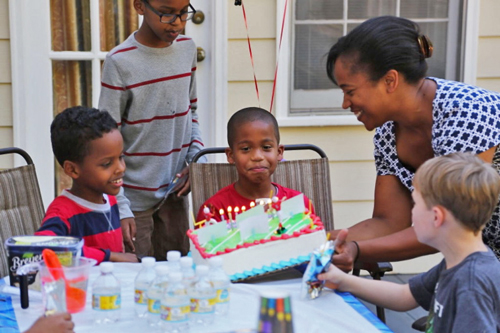 (Manuel's birthday cake with a football and pictures of his stuffed animal)
We are teaching our kids to be tolerant of, and have love for, people who do not share our faith or convictions. Our family is proud of our ethnic roots and unapologetic about our Christian faith, and we have developed good relationships with our neighbors who are Muslim, Catholic, Buddhist, Jewish, and agnostic. One day, Manuel asked me what a Muslim was, and rather than trying to explain the origins, beliefs, or diversity of Islam, and I simply pointed out that his three friends who live next door to us are Muslim. He asked, "Can I still be friends with them?" I smiled, and said, "Of course!" I then explained that even though we as followers of Jesus Christ have some different beliefs than our Muslim friends, we should still love them and treat them with respect and kindness.
With all the racial and political tension brewing in the country right now, my wife and I are being intentional about having these kinds of conversations more often. We are trying to get our children to understand that there are good and bad people everywhere, and that they should evaluate people based on how they speak and live. We are teaching them that there are good black people and bad black people. There are good white people and bad white people. There are good cops and bad cops. There are good Christians and bad Christians. There are good Muslims and bad ones… In time, we will be able to get into a deeper conversation about ethics and axiology and defining "good" and "bad." For now, we just want them to learn how to life with faith, love, gratitude, humility, integrity, honesty, and self-discipline. I'm sure laying this foundation will take up a good deal of our time. =)
(Manuel's Birthday Party)
All in all, it has been a good week. Alice and I had a good laugh on Friday. Here's why. Friday morning, I slept in a little later than I expected, so I had to rush downstairs to make sure the kids started school on time. I got them started on their math, spelling, and handwriting. Every time I tried to go get myself together, one of them needed help with something. Well, about an hour later, when Alice came downstairs to greet all the children, she looked at me and asked, "Do I need to contact the Georgia Department of Education?" I asked, "Why?" She replied, "Because I've never seen a teacher teach a class in just his underwear." We had the best laugh! I think I took casual Friday's a little too far.
Thanks for reading. I hope you have had a great week.
Blessings,
Manny
---
Interested in more content like this? Signup here.