"Dear Mr. Scott: I am a parent of a student at Elyria High School and I wanted to reach out and really compliment you on making a difference in my son's life today. I could tell immediately upon him getting into the car how grateful and appreciative he was toward me. We spoke about your moving assembly and I must say I am truly impressed with your words and actions, and how you relate to the students. Bravo!"
Life-Changing Assemblies for Your School
Turn the Page Assemblies
Inspire grit and resiliency
Raise student achievement
Prevent suicides
Reduce bullying
Create school-wide unity
All...in just one 1 hour.
"Recently, a school leader pulled me aside moments before I was about to speak to 1,000 students. Whispering, she said, "I have been at this school for 30 years, and these are by far the most challenging, difficult kids I have ever seen. They are disrespectful to teachers and each other. They don't care about school. If you can do anything, sir, please help us."
Then, the superintendent and her staff asked me how I wanted them to handle hecklers. Did I want them escorted to the left or right, or out the back? I asked them to not remove anyone, and to just sit on the side and let me try to help them.
For one hour, I had the undivided attention of those students. Not one of them disrupted me. In fact, they did everything I asked them to do. They were respectful. They were pleasant. They were wonderful.
Afterward, the superintendent, with her mouth wide open, said, "I have never seen anything like that in my life! We came here thinking we were going to help you, and you helped us. Thank you!"
I know how to capture and keep the attention of even the most difficult students. Some of it is because I have a gift. Some of is also because I understand them, and they know it.
When I was in school, I used to see assemblies as a joke or as an opportunity to get out of class. Quite often, the speaker would not be able to engage me in a way that made any positive difference in my life. I used to say, "That's nice, but that's not real." So I zoned out. Eventually, school became so irrelevant to me that I dropped out. Several of my friends did, too.
Had someone like me spoke at my school, I would have probably stayed in school. I was facing neglect, abuse, hunger, homelessness, surrounded by gang violence and death, and I needed to see that someone else had made it through that. I needed to see that someone who is from where I was from, who had faced the kinds of problems I was facing, survived, and was now happy."
-Manny Scott
Many students in your school feel the same way Manny felt. Some of your students are on the verge of dropping out, doing drugs, or making decisions that could ruin their lives and the lives of others.
Your students:
Need someone who can capture and keep their attention.
Need someone who can meet them on their level and inspire the rise to new ones.
They need someone who can speak their language and understand their culture, and relate to them on a personal level.
That's what Turn the Page Assemblies do for students. Manny Scott has been given a gift to engage even the most difficult audiences, and help them turn the page and begin writing (living) new, more fulfilling chapters in the lives. Chapters filled with healing and hope, perseverance and possibility.
Turn the Page assemblies are a life-changing 60-90 minute experience that meets your students on their level, engages them in fun and positive ways. In each assembly, Manny or Matt, the other speaker who travels with Manny, help young people navigate through some of the very real and dark pain in their lives and then empower them with the mindset and strategy to overcome those obstacles.
In preparation for every assembly, Manny's team works very closely with you to help you prepare your school, staff, and students for the assembly.

Meet Matt Bennett
Because Manny's schedule is sometimes booked two years out, we did a nationwide search for someone who could help Manny speak to students. After hundreds of applicants, and a very thorough interviewing process, Manny and his team selected Matt as the one person who has the competence, character, and commitment to do this sacred work. For over five years, Matt has traveled with Manny, leading Turn the Page Assemblies all over the country. Learn more about Matt here: www.TheMattBennett.com
Takeways
Turn the Page Assemblies capture and keep the attention of students so they can learn about their power to change their own lives.
Help students see that they are not alone in the challenges they are facing, and that other students are facing the same problems.
Reduce bullying.
Prevent suicides.
Inspire hope and compassion.
Create unity among your campus
...in only 1 hour.
More Takeaways
Changes the entire culture of the school.
Lets teachers see with their own eyes how well even their most difficult students can behave when given high expectations.
Reminds leaders of their "Why."
Fosters a campus-wide atmosphere of compassion, understanding, and excellence so that all students can flourish.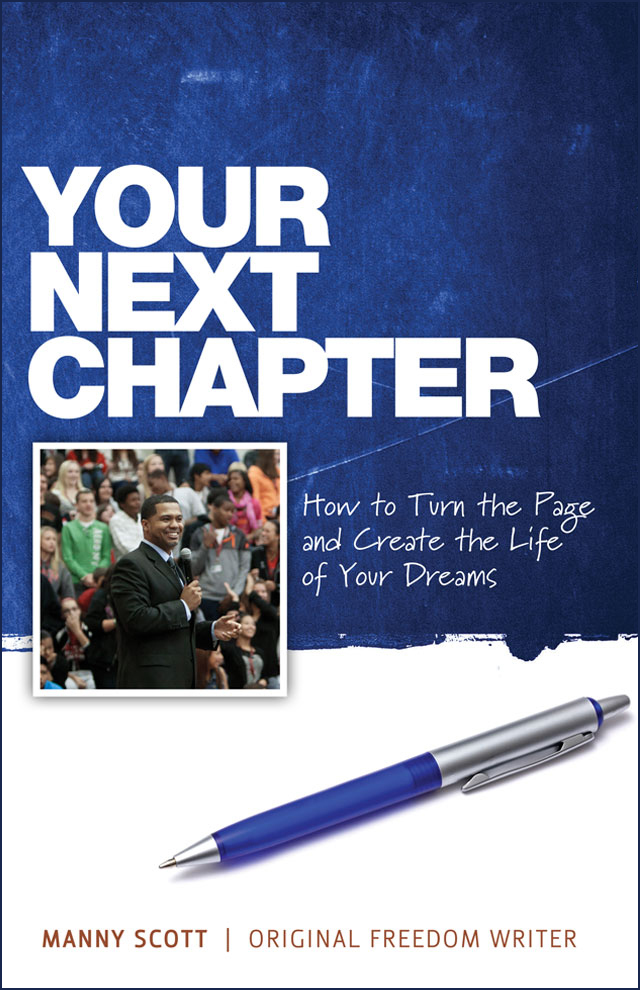 Your Next Chapter
Do you want more out of life? More money? More success? More significance? More fulfillment? Is it NEVER too late to turn the page and create new, more fulfilling chapters in your life.
Buy This Product